I know you must be thinking about the Christmas Season. Even though Thanksgiving is just around the corner. So lets get one Christmas task taken care of.
The Dreaded must do Christmas card, Christmas letter, or Christmas family picture card.
I t should be the most easiest of all holiday task. Because just how easy is it to talk about yourself. Though we may dread the task of doing it, in the end it's a must do and you're pleased with yourself that you completed that task and it makes for a Merry Christmas for all.
The Christmas family picture card is possibly the most popular. Though, it takes a lot of work. Coordinating the outfits, the time and place for the picture, or choosing the best picture from the whole year that you have stored on some electronic device, then choosing the cutest background and words and ordering thru retail or printing them yourself.
Last year mine ended up being a New Year's picture card of the dog.
I didn't do any type of Christmas card whatsoever last year. I did buy a generic box of Christmas cards, signed and addressed some of them, but they never made it to the U S Postal Service.
I like getting Christmas family picture cards from friends and family.
But, I actually love the idea of writing (and mailing) real letters all throughout the year. And receiving them. Notice I said I love the idea. Not that I actually do it. But this year I want to write the infamous yearly holiday newsletter. Where you tell of all your family news. Where you try to look really really good on paper.
Never mind that it could be so simple to send Christmas greeting by writing and clicking through facebook, twitter, blogging, email, texting, and whateveer other ways I'm not aware of.
This year I want to do the yearly pen to paper (via computer) holiday newsletter. Is anyone with me on this? Or am I the only strange one?
I've googled some interesting tips for us to create the best Christmas holiday newsletter of all.
source
use holiday stationary which you can buy almost anywhere you can find office supplies or you can even find printables online
use a generic greeting so you don't have to change the greeting for each person, ex: Merry Christmas, Dear Loved Ones, or Tis the Season
one page newsletter only, attention spans are short, hit the highlights of your year
adding a small picture that doesn't need an explanation is ok
it's ok to share a sadness, the recipients are your friends and family and they do care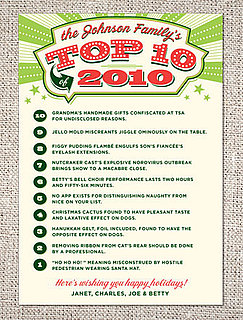 source
Whether you are doing traditional Christmas cards or picture Christmas cards or electronic greetings or the yearly Christmas holiday newsletter, you need to get started now. Stay on top of it, give yourself a time frame to start and complete the task and have it out of the way and ready to send in plenty of time to focus on The Reason For The Season.
gin