It's time I finish Part 2 of my sewing project of the RWB (red white & blue) casual wear for a baby pageant in July. Sewing Part 1 is
here
. It's the post on creating the skirt. This post, Sewing Part 2, is on creating the top.
With measurements of the chest and length of shoulder to waist, I have began. I made the paper pattern from the measurements and chose a shiny stretchy bright white fabric to use as the lining and a shiny sheer fabric for the outer fabric . Folding the pattern in half and placing it on the fold of the fabric to cut.
For shoulder straps I have used the same ribbon as the sash ribbon on the skirt. .I measured from top of bodice across top of shoulder to top of back bodice. Cut 2, doubling the measurement and adding 2 inches to the double length. Because I will stitch a gathering line down the center of the ribbon to form a ruffle.
With right sides together of the bodice top and lining, pin a ribbon shoulder straps on each side where they should be, having the ribbon sandwiched between the two layers of the bodice. sew lining to top fabric along the top edge.
Turn right side out, and see that shoulder straps are straight. Middle of back will be the opening. Middle of back will be the opening. Finish each side of opening by turning under sewing. Use snaps or velcro as fasteners. Hem bottom edge of top.
A 4 1/2 inch sequin star will be my center embelllishment on the bodice. Center it on the right side of the front of the bodice and either use fabric glue or hand stitch into place.
Using the same red ribbon as the shoulder straps, place ribbon at waist of skirt and tie large bow at back.
You may notice a difference in the skirt from the Part 1 post. I took the red ruffle off because that red was not the same color red as the red ribbon used for the shoulder straps and the sash and bow at the waist. And just leaving it with the blue and white ruffle it looks just as good.
Linked with:
and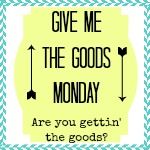 gin